EDUCATION PLUG-IN RESOURCES & TOOLKITS
Our Education plugins and toolkits are the individual components of our products and programmes, these can be easily plugged into your training programmes. This is an easy way to tailor your programmes to include the products that are applicable for your training needs. These components include activities (both team building and individual), skills and knowledge profiling tools, E-Learning modules, toolkits and an E-Portfolio. Find out more about each of them below.
Personal Diagnostic Profiles
Our Comprehensive Skills Profile is generated by using a combination of real world case studies, peer reviews, self evaluation questionnaires and a commercial awareness quiz to produce a 360 degree reflection tool that measures both the skills and knowledge of the participant. This skills profile can also be benchmarked against an upper quartile to highlight any GAP for further development.
The process, timeline and delivery
The programmes take approximately 4 hours. They can be completed 100% online or in the classroom. Our most popular delivery method is blended; with the first 2.5 hours in a physical, or virtual, classroom environment and the remaining elements completed online.
​
The Outcomes
Each candidate is measured to show how much they have:
Improved their business acumen during the programme (whatever their level and background)

Applied that personal development in the workplace with immediate impact and in a very pragmatic way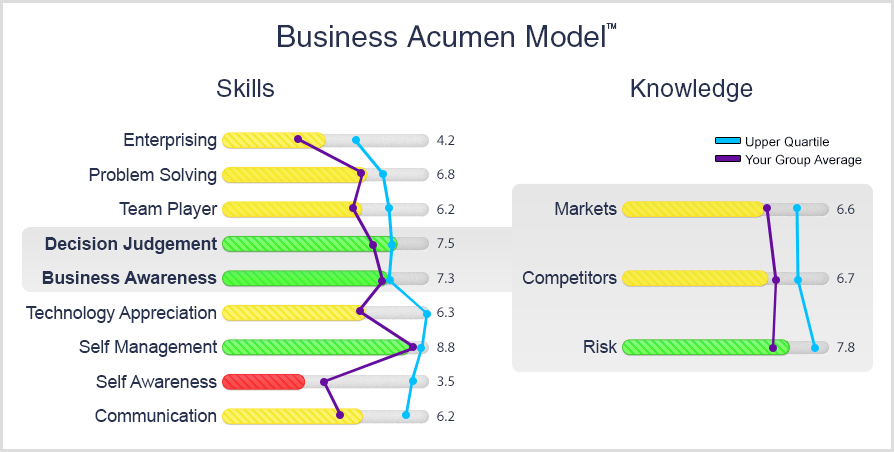 "A great tool for self reflection"
​
KPMG Graduate
Comprehensive learning modules
We have created a set of comprehensive learning modules within our E-Academy that cover Marketing, Strategy and Finance & HR in an enjoyable and accessible format. The modules are interactive and use a step by step format to make learning as easy to digest as possible. Perfect content for your Business Education department.
​
E-Academy
The E-Learning modules can be accessed individually or as a whole as part of our E-Academy, which also contains a studylog to track your learning. The interactive learning topics cover all the key information you will need in the form of questions with instant feedback, videos and case studies.
​
Further reading is offered to those that want to delve deeper into the theory that they have been taught, as well as comprehensive video lectures taught on the Executive MBA at the University of Cambridge.
Skills Development
Our E-Portfolio is a personal development tool that is used to develop the key personal skills you need to become successful over time. You will use it to create a personal development plan. The aim of this is to identify where you would like to develop and how you plan to do so for each of your 9 skills. It has been developed with Education institutes and it fits in seamlessly with their existing systems. No installation is necessary.
​
Track your skills over time
The E-Portfolio is hosted in the cloud which means it can be accessed from anywhere. You can add different evidence (documents, images etc) and map them to your Personal Skills for success. You can also share the evidence you add with people to gain feedback on your work to improve.